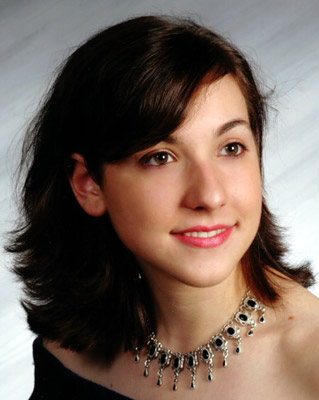 Emily Rachel Silverstein was tragically and violently taken from us on Thursday, April 9, 2009, at the tender age of 19. Born June 27, 1989 in New Brunswick, Emily resided in a small town in Monmouth County most of her life.
From an early age, Emily was a creator. She was a skilled artist and most recently displayed her talents in her creative writing. Her sensitive and caring nature lent power and meaning to all of her works and her relationships with friends and family. At ten years old, she decided to become a vegetarian and participated in peace marches. She wrote her first letter to the president when she was in sixth grade. Her academic prowess followed her through high school as a member of the National Honor Society, and she graduated with honors. She also participated in several extracurricular activities like the Hightstown High School Marching Band, the swim team and the Adopt a Holocaust Survivor Program.
Emily continued her success as a member of the Dean's list at Gettysburg College, where she was an Anthropology Major, with an English Minor. At Gettysburg, Emily's social awareness grew, and she became a well-respected leader and organizer. She was co-president and lived in Peace House, whose mission was to create awareness of world peace issues. She helped to form a chapter of Students for a Democratic Society (SDS) on campus and was involved in Amnesty International, Free the Children, and other social justice activities. Emily was inspired to study Arabic, so that she could better address her concern for women's rights in the Muslim world, and had planned to spend a semester studying abroad in Morocco. A few weeks before her death, Emily had helped to organize Funk The War, an anti-war demonstration on campus. A week after her murder, students participated in a week-long event called Tent City, which Emily had helped to organize in order to help bring awareness to the homelessness crisis.
Emily Rachel Silverstein's compassion, passion and creativity touched many lives. She shared many deep friendships and accomplished many amazing things. But there was so much more that she wanted to do to make this world a better place. There are so many more lives that she would have touched, inspired and empowered to join in the struggle for a more peaceful, just and sustainable world. The Emily Silverstein Fund (emilyfund.org) has been set up by her family to continue Emily's legacy of hope and action for a better world, and her strong conviction that every act of compassion makes a difference.